Each batch into the main material or auxiliary of Forward not only need to submit the test report issued by the national professional organizations and certification instructions, but also by the sampling and testing of of Fenghua laboratory performance data, compliance before storage.
A case-by-channel detection Pre-production processes, processes responsible persons are required for semi-finished products inspection; in the processing, if it is found defective appear immediately do offline processing, and eliminate the inflow of the next process.
Finished product testing After the products are completed, the inspection department is in need of up to 60 detailed detection and qualified before they can be as a finished product storage.
The top copper
FLOVA exports the South Korea brass as basic material. FLOVA products are enough material processing, leaving the thinnest part even over 2.5mm and remain brand new even after 10 years of usage.
International top cartridge
The cartridge is the core component of faucet. And the cartridge which FLOVA uses can be through a number of international certification. And its service life is more than five hundred thousand times. The extremely stable handling feel can able to adjust the amount of water and water temperature accurately.
French thermostatic cartridge
FLOVA uses the top thermostatic cartridge which can automatically adjust the scale of hot water and cold water and maintain a constant comfortable water temperature.
German NEOPERL aerator
FLOVA uses the international top aerator which uses the superb air-injection technology. The aerator saves water and thus environmental friendly.
German shower hose
FLOVA shower hoses are original German quality. The unique silver foil material, smooth and durable, easy to cleaning and maintenance. And more, FLOVA hoses own the special feel, soft and comfortable and can be better care of the surface of faucet and shower.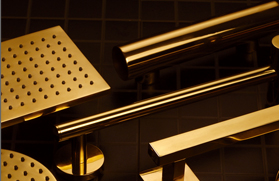 Research & Development
Appearance of the creative
FLOVA strives to find the golden section hidden in clean lines and harmony across square and round when their team of designers travels to Europe annually to closely absorb the clues for inspiring the next new range. Structural optimization
FLOVA valve products can still flow water in the case of changing water pressure, long-lasting stability. FLOVA takes full account of the construction and maintenance of the problems faced by the product structure design allows easy installation and maintenance, small space and with multiple levels of security measures.
The company has to expand the technological exchanges and cooperation with Japan, Germany and other enterprises. We combine the technological innovation and modern art together. The oxygen-rich rain, rotating watershed protection, anti-hot, waterfalls, laminar flow, dynamic pressure constant current, etc. more than ten scientific and technological innovations have been widely recognized in the market.